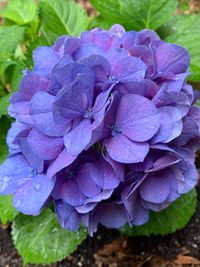 This spring I decided to try my hand at gardening for the first time at my home in the city. I had long dreamed of a brilliant bluish hydrangea bush in the yard and bright daisies that would greet me over and over again each spring. I missed the butterfly bush and Rose of Sharon from my former home. Planted by my friend while I was pregnant with my third child, they gave me quiet moments of beauty and pause every year. Now with an empty nest, I thought I might join the ranks of all good Southern women and plan a garden. And so I began the task of trial and error, questioning, researching, shopping, planting, watering, weeding and pruning. Let me just say, it was a lot of work, time and money for a few hints of green and growth, a handful of flowers, some devious munching bugs, and burnt leaves. My neighbors have the "green thumb." Their beautiful gardens serenaded my soul and taunted my bruised ego from the windows in the piano room where I make music and teach students each day. As summer grew hotter, I battled the scorching heat to keep my new endeavors alive.  
In contrast to all of this efforting were my weekly encounters with the wildflowers. I am incredibly blessed to spend my weekends at our home in the Blue Ridge Mountains of North Carolina. On my walks through our mountain community I encountered these quiet, no-fuss flowers rising up all around. Each week a new variety and color graced the forest floors and roadways. As I strolled, I recalled Dolly Parton's autobiographical song about "being a wildflower," a song I had long loved and related to on a personal level. I began to muse about the song and the qualities of wildflowers, so different from my domestic attempts at my city home. And of course, as is my usual way, began to capture these free-floating beauties with my camera.   
I thought about how I, and the culture at large, regard efforting so highly. Playing by the rules, staying in line and working harder and longer are the ingredients we believe allow us to "live the good life." Yet the wisest among us were known to spend much or all of their time in quiet contemplation, creation, or teaching of the young. I was being reminded again by the Creator that living, growing and thriving can be as natural to me as it is to the wildflower. I am a wildflower. 
As summer wore on, I began to feel more and more engaged with the wildflowers in moments of stillness, observing their quiet and sturdy ways...lying on my belly in the woods, searching for the angles that would capture their essence and enlarge their smallness. Some were smaller than the tip of my pinky finger. Others were brilliant purple or the deepest scarlet, glinting alone and so deep into the forest that I could not reach them. Still others sprung out of large stony rocks or dry, dusty soil. Many were in obscure places where I would likely be the only person to ever notice their beauty before their passing. Others, like the sunflowers, were larger than my head, and were tossed about by fierce mountain winds in open fields. Black-eyed Susans ran amok in free-form gardens of rural homes. All of them were speaking so boldly yet so silently to me:  
"Anjie, why are you so full of worry? Don't worry if you are small. If you are small, just be small. If you are all alone and there is no one around to love you, just be love. If you are large and bold and bright, just be large and bold and bright. If you are hidden and no one sees your heart or hears your song, just sing it anyway. Don't struggle. Just bend in the wind. Just be your beautiful, wild self. Shine. Lift your head towards the sun. Quit trying to force yourself to grow. You are growing, slowly, imperceptibly in response to the sun and the rain. And you can grow most anywhere. You can grow exactly where you are." 
And the messages and lessons went on and on as God Inside instructed me through these gentle beauties. What messages are they speaking to you? Please share the joys and struggles you encounter as a wildflower. And may your moments with this writing, the song, and the meditation find you all the more free and all the more wild. With love from one wild flower to another. Anjie 
CLICK HERE FOR THE RECOMMENDED FREE RESOURCE, "ECKHART TOLLE FLOWER""